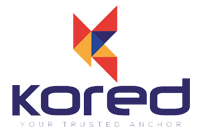 Kored Infratech brings advanced, multi-disciplinary expertise in three key sectors: Telecom, Infrastructure and Realty. We have amply demonstrated capabilities in executing several complex engineering, construction and operational maintenance projects from concept to commissioning.
Kored's expertise spans the full spectrum from engineering and planning to construction and quality control. We maintain close relationships with suppliers and statutory bodies. In-house engineering teams work closely with construction teams at sites to deliver a "One Kored" experience. By working as a team, we build value not just structures.
Our thriving Telecom business worked with all the top 3 leading Indian Telcos, winning national awards and industry recognition. Our Construction business has experience in building several commercial and residential structures. Similarly, we have skilled manpower, capital equipment and resources to undertake challenging Infrastructure and Realty projects.
In addition to these, our leadership team continuously explores adjacent and new sectors where Kored can play a key role. Wherever applicable, we transfer best practices from one sector or project to another to learn from our collective experience and expand our capabilities.
We use lean construction techniques to keep project costs low and simplify complexity. Kored also adopted the Total Quality Management (TQM) methodology to ensure quality at all stages of the construction lifecycle.